High Efficiency Gas Furnace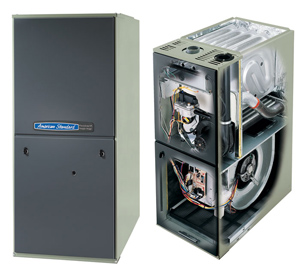 Today's gas furnaces are more efficient and dependable than ever before. A high efficiency furnace from American Standard or York can give you some of the highest efficiency ratings of any furnace in the industry. Our Furnace sales and repair team can assist you in making the sometimes difficult assessment to repair your furnace or have a full furnace replacement.
Today's furnace systems burn less fuel to create the same amount of heat and they pollute less than their earlier furnace models did.
Several models have modulating heat output which are capable of producing heat more continuously than the preceding models. We offer full service furnace repair and furnace sales for the Wasilla, palmer and Mt-Su Valley area of Alaska.
High Efficiency Furnace Repair
We offer regular furnace maintenance and repair services. The best way to assure the long life of your furnace is to have it regularly serviced by a qualified furnace repair technician. Many of our customers schedule regular annual furnace maintenace service which minimizes expensive repairs that result from years of neglect and assure them of dependable heating for their home or business.
Forced Air Heating For Alaska
Gas fired forced air heating is a popular method of heating homes and business in Alaska. These systems are cost effective to install fairly economical to operate and maintain.
Forced air heating systems work even better when combined with HRV and ERV systems. This greatly enhances the health benefits of clean air in your home or business and minimized the pollutants and health risks.
High efficiency furnaces are especially responsive to proper maintenance and care. It's the efficiency of the furnace that directly relates to it's cost to operate.  That means if it is not maintained, it cannot be as efficient, therefore it cost you more in the long run to operate.
 Call for an Estimate for a High Efficiency Furnace Repair
New High Efficiency Furnace Sales
907-354-3495