Boiler Repair and Boiler Service
Paragon Mechanical Plumbing and Heating specializes in Alaska boiler repair and boiler servicing. All of our boiler repair work meets or exceeds the national requirements and industry standards. We not only do repairs on most major boiler brands, we also do scheduled heating maintenance for homes and businesses in Palmer, Wasilla, Mat-Su Valley, and Eagle River, AK.
Boiler Service and Repair
When a boiler goes down in Alaska it can be a life and death experience. It can also mean frozen pipes that can cost you thousands of dollars in home repair costs. Don't wait until your boiler breaks down before you call for boiler servicing or boiler repairs by Paragon Mechanical. The best way to avoid this crisis is to schedule routine professional heating maintenance and boiler servicing repairs which will keep your boiler system running at peak performance, save you energy costs, and increase the life of your heating system.
If your heating system does break down we can fix it. If you want, we will evaluate and estimate the cost of repairs for heating maintenance and boiler repairs so you can make an informed decision before going forward. We guarantee your satisfaction on all of our boiler repair, services, and heating maintenance repairs. We work on all major brands and if it can be fixed, we can repair it, and we'll get your heating system back into peak performance.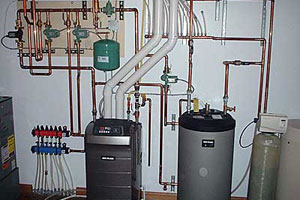 Boiler Replacement
Paragon Mechanical is a full service boiler repair and heating maintenance company. We service all the major brands of boilers and we can install new or replacement boilers in your home or business.
If your current boiler is old you are definitely loosing energy and money. Older boilers are inefficient and lack the newer technology that makes todays boilers so much more efficient. Consider replacing that old boiler with one of our new high efficiency boilers.
Upgrade To A New High Efficiency Boiler System
Today's boiler systems are much more efficient than older boiler systems and replacing an old boiler system can save thousands over the life of the unit. Some of the boilers today run as high as 98% when coupled with radiant in floor heat systems. Call us and we can assist you in assessing the condition and efficiency of your current heating system and help you choose the right boiler for your home or business. If your building a new building we can also help you plan and design your heating system and boiler to fit your exact needs.
Why Buy a New Boiler?
Todays new gas fired condensing boilers are among the worlds most efficient ways to some your home heating or commercial heating needs. High efficiency condensing boilers convert more than 90% of their fuel into heat, compared to 78% for other conventional types of boilers and 40% to 45% for older outdated boilers. This very high efficiency rating achieves an "A" for efficiency on the Sedbuck Rating Chart. Before considering servicing that old worn out boiler, consider a new boiler replacement. The cost of a new boiler can be easily recovered.
What is a condensing boiler?
The most energy efficient Central Heating boiler on the market today is a condensing boiler. This type of boiler achieves its high level of efficiency by removing the heat from the fuel that it is burning and also cooling the products of combustion, which are normally wasted up the flue, so much so that the water vapor in them turns into liquid. This happens at around 55°C. For any boiler to be able to cool the flue products to this degree, it must have a larger, more efficient heat exchanger than other conventional boiler types. Condensing boilers get their name because they go into what is known as "condensing mode" every so often. This means these boilers extract heat from the exhaust gases that would normally go up through the exhaust flue, in the process turning water vapor from the gas back into liquid water or condensate.
A High Efficiency Boiler Means A Cost Effective Boiler
When comparing "apples to apples" a new high efficiency boiler can save you thousands over doing repairs or servicing an old inefficient boiler. This becomes even more apparent when considering many boiler repairs on older boilers become nearly impossible as parts for them become harder to find. The choice is clear, boiler repairs or boiler replacement. Servicing an old inefficient boiler or enjoying a new cost effective heating system.